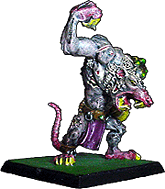 Bone Chewie



Rat Ogre,
Headz'n'Tailzz BBC

Retired!


MA
ST
AG
AV
Skills
6
5
2
8
Loner, Frenzy, Mighty Blow, Prehensile Tail, Wild Animal,

Block

,

Claws

,

Pro

,

Tackle


Notes
Retired during season X.
retired due to Crush!
1 niggling due to ageing



HoF - Awarded into the Hall of Fame during/after season X

Bone Chewie was a terryfying monster - delivering 27 casualties in just two seasons, and finishing as top hitter both seasons.
He was greatly feared and so far no one has showed the same potential for effective destruction as he did.




Profile
Bone Chewie is born, altered and refined by the clan moulders back in Skavenblight! Luckily the headcoach of the Headz'n'Tailzz knew just how to get his hands on a prize specimen as Chewie (a few backstabs, a little brownosing and a lot of warpstone powder)!!!
He ended his first season as the most hitting player and went straight to the all time top hitters chart as well!!!
His skills as a hardhitter has improved a lot. Althoug still a bit hard to control his errors has been minimized!
Keeping an average cas. score per match above 2 Bone Chewie is a factor to calculate with for every opponent the Headz take on...
Althoug it seems all the matches is beginning to take a toll on the devastating monster. Chewie is needing a little more medical attention before every match than ever before...