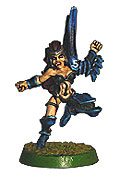 Ariana Deathkiss



Witch Elf,
Death Extravagante

DEAD!


MA
ST
AG
AV
Skills
8
3
4
7
Frenzy, Dodge, Jump Up,

Mighty Blow

,

Piling On

,

Block

,

Tackle

,

+MA


Notes
Was killed in the match Death Extravagante - Dragons of the Jungle

(Season XIX, round 6)


and Dragons of the Jungle

took the 30

000 gp bounty.



HoF - Awarded into the Hall of Fame during/after Season XIX

At the time of her death she was the most known and feared player of the league, and the only promising star to leave the league in season 19. Her career was cut short, when she seemed to be on a roll with great achievents ahead of her. But her already earned merrits and fame led to a spot in the HoF.




Profile
In Arianaīs very first match for the team she showed to the world that she is a star of the future, 3 TDīs a cas and a MVP was the end result.
Her devastating abilities is just about unmatched.
She delivered no less than 21 casualties during season 18, that is more than double as many as number two that season with 10 cas.

Just made it to the all time top hitter list, and is by far the hardest active hitter.

Leader of the fearsome three, and the undoubted star of the team.